Single-Development
From Planning to Construction to Operation
Analysis, conception and realisation – our team of experts has many years of experience in all phases of hotel development. Each project is examined and evaluated according to specific criteria. On this basis, we create contemporary solutions that have their roots in the traditional hotel industry and grow in the long term with the help of modern technologies and approaches.
How do we do this? We have always kept our feet on the ground and have continually learned from our success. That is why we know exactly what is important in a project, how much it costs and how long it takes. This security is our strength, from which our partners benefit, and forms the foundation for trustworthy cooperation.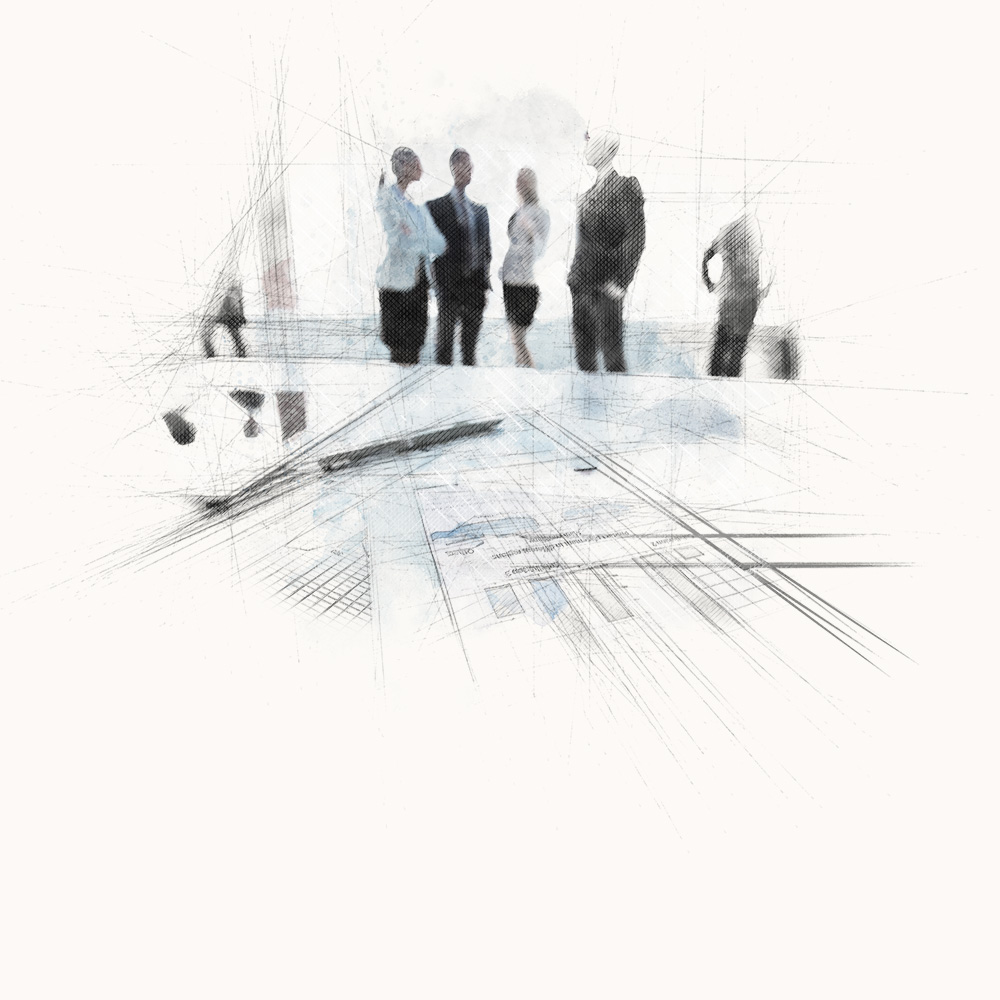 In order to reliably pursue and control project goals, we define detailed standards and quality descriptions.
The bundled competence from various specialist areas enables us to exploit potential where nobody expects it.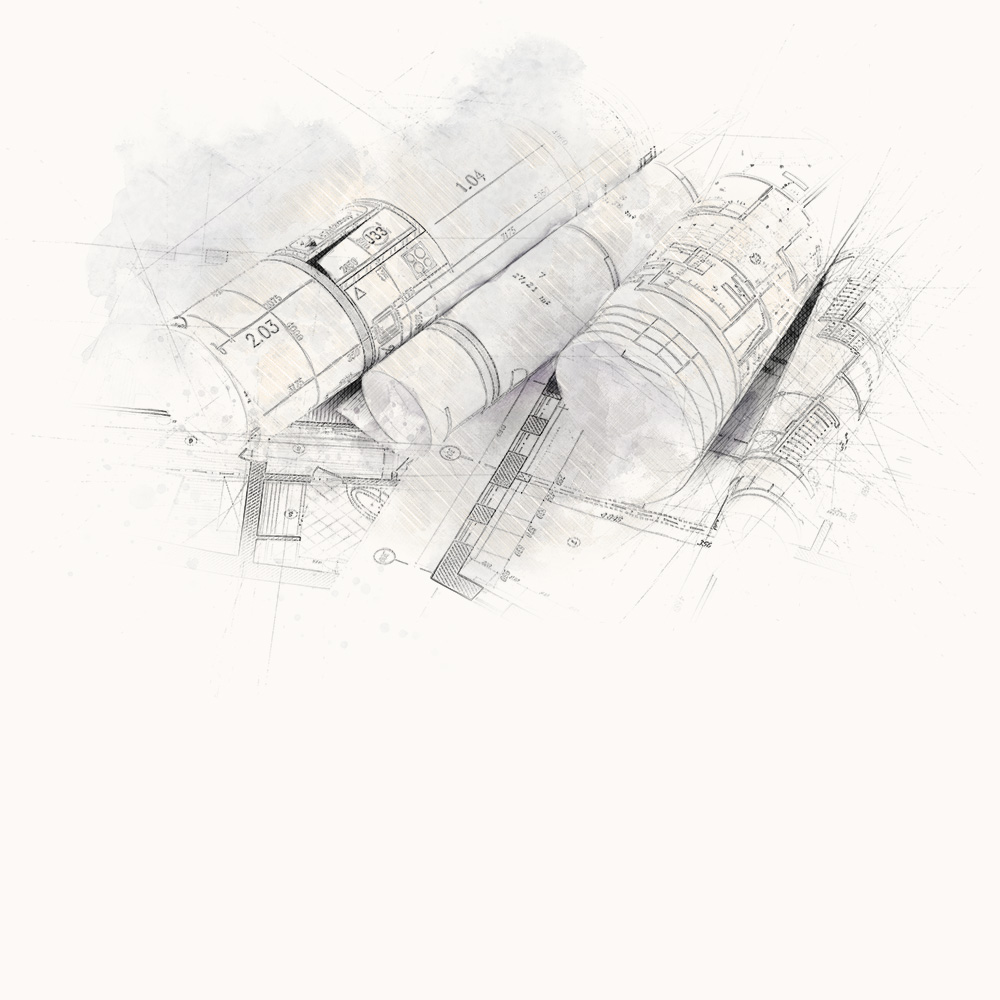 From our ideas we develop first plans. In addition to classic floor plan drawings, we also use the latest technologies such as 3D drafts and 3D prints.
Photorealistic visualizations convey the overall concept and the desired atmosphere. We are also working on virtual reality implementations to make an interactive experience with the hotel possible, even before the opening.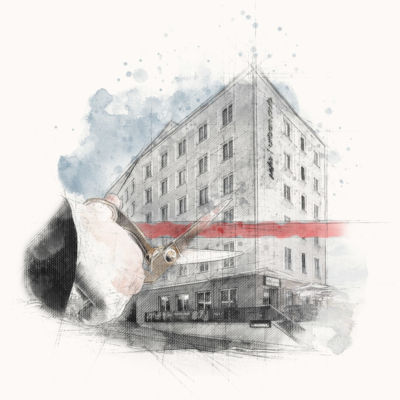 At our modern head office in the heart of Stuttgart, specialized departments (Acquisition, Development, Operations, Quality Assurance, Purchasing, Sales and Revenue Management as well as Marketing and Communication) work closely with the franchisor's specialist departments – resulting in short, efficient workflows, a smooth opening and successful operation.
Wer ist an einem
Hotelprojekt beteiligt?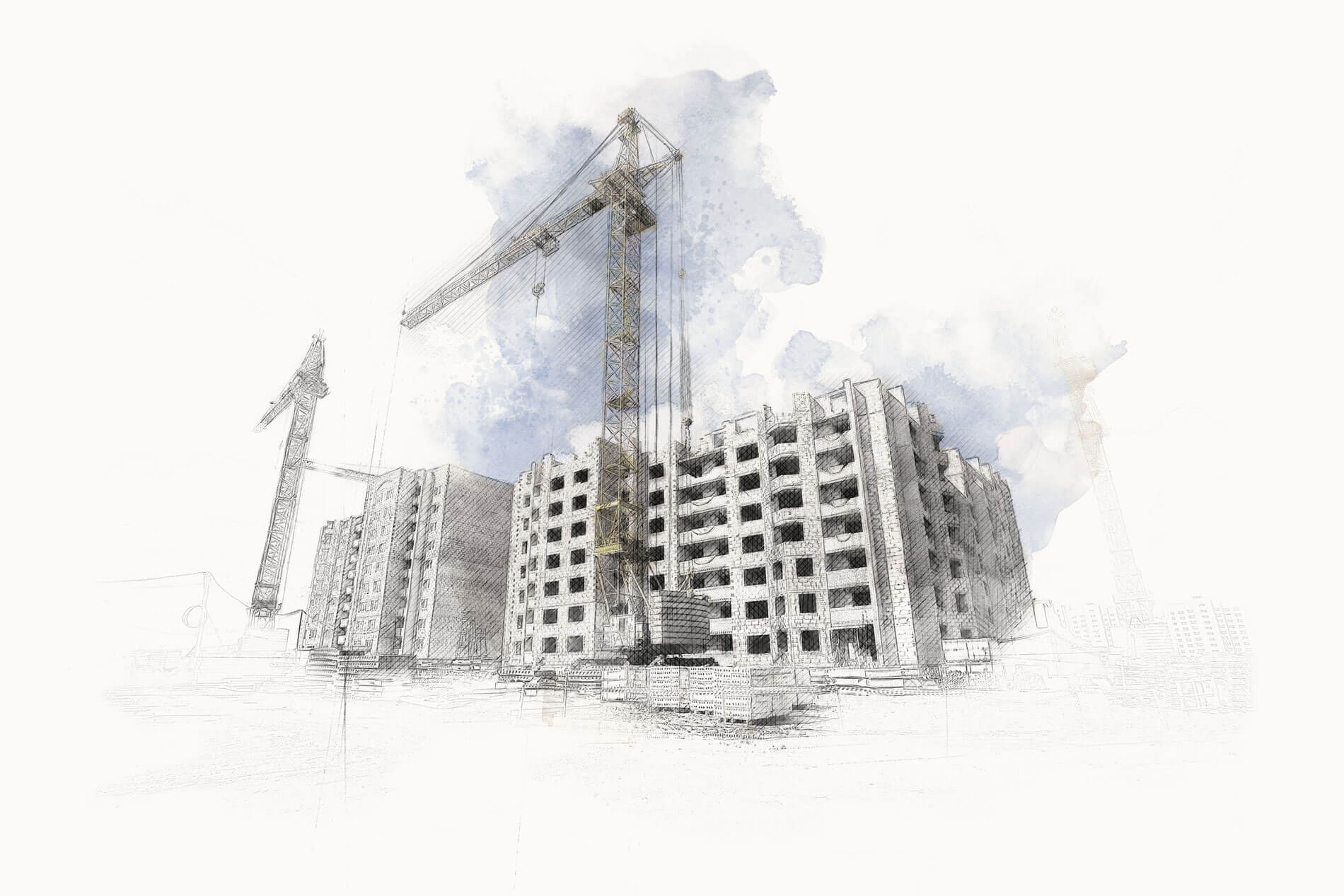 Success Hotel Group
Hotelbetreiber
Investor
Immobilieneigentümer
Franchisegeber
Markenlizenzgeber




Miet-/Pachtvertrag
Franchisevertrag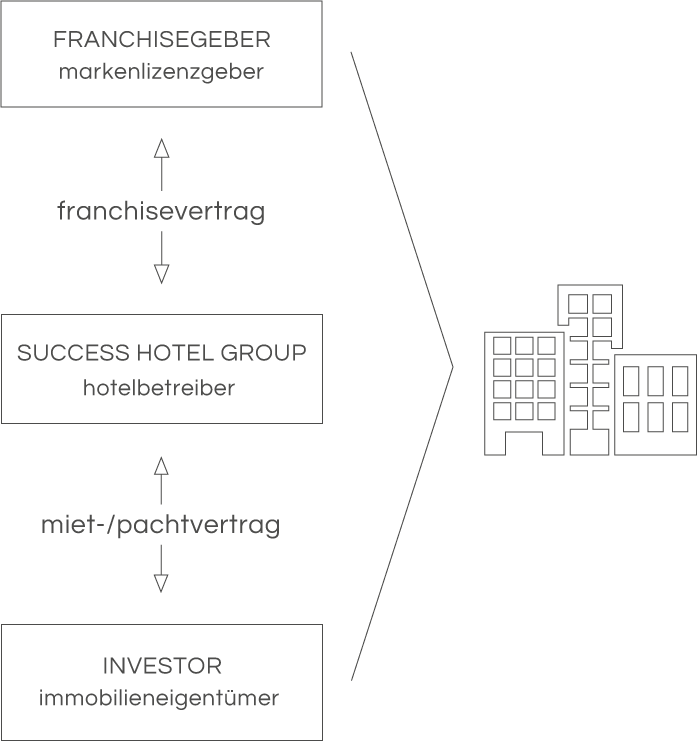 Our Location Requirements
Every location and every property are individual. We have therefore developed a project selection concept that takes economic, ecological and social aspects into account and prepares our hotel projects for the future.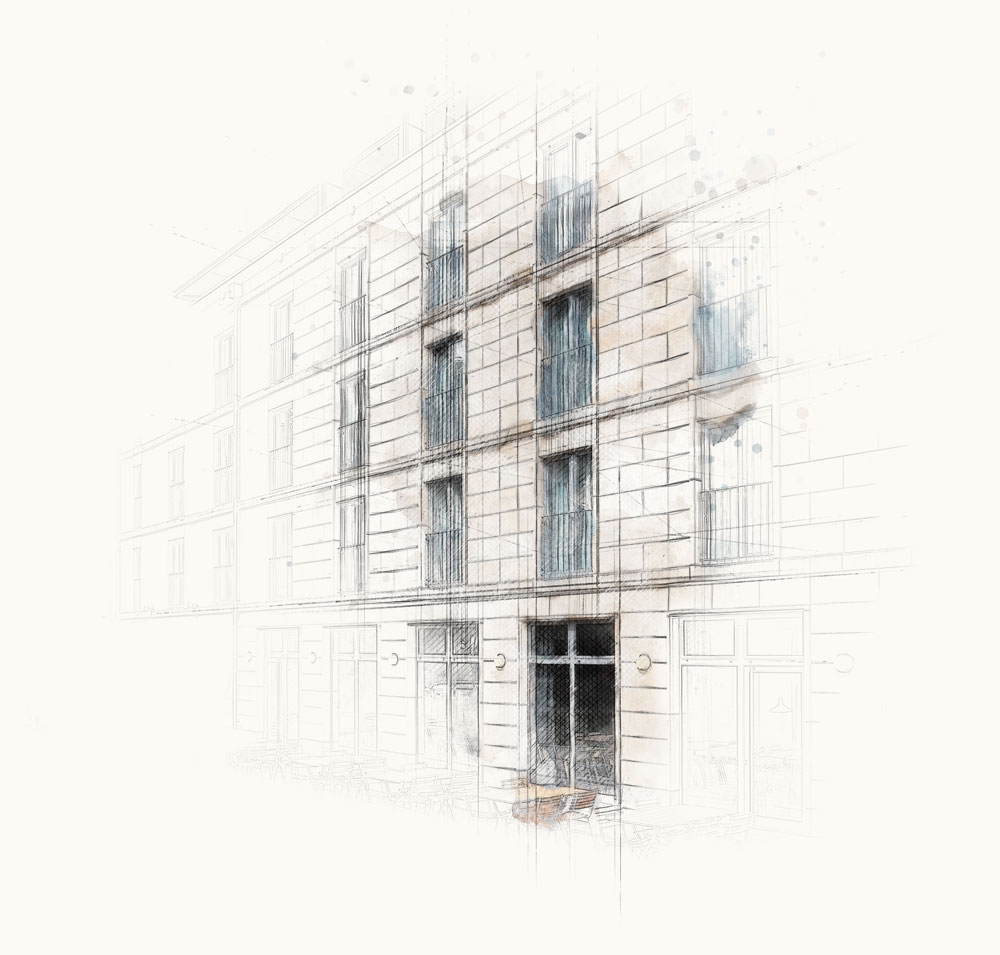 Positioning
Metropolises with a lifestyle-oriented positioning and a strong hotel market
Hotel Size
From 100 hotel rooms
At least 15 m² space for a standard hotel room (depending on brand)
From 20 m² gross floor space per room (depending on brand)
From 4,500 m² gross floor space (excluding parking spaces and outdoor area)
Types of Development
New developments
Conversions
Takeover of existing hotels
Dual branding
Mixed use
Site Characteristics
Grown environment with different real estate uses
High visibility
Proximity to demand generators (tourist attractions, offices, conference rooms)
Good transport connections both by public transport and by car
Types of Contracts
Fixed lease and rental agreements
Variable leases and rental agreements
management contracts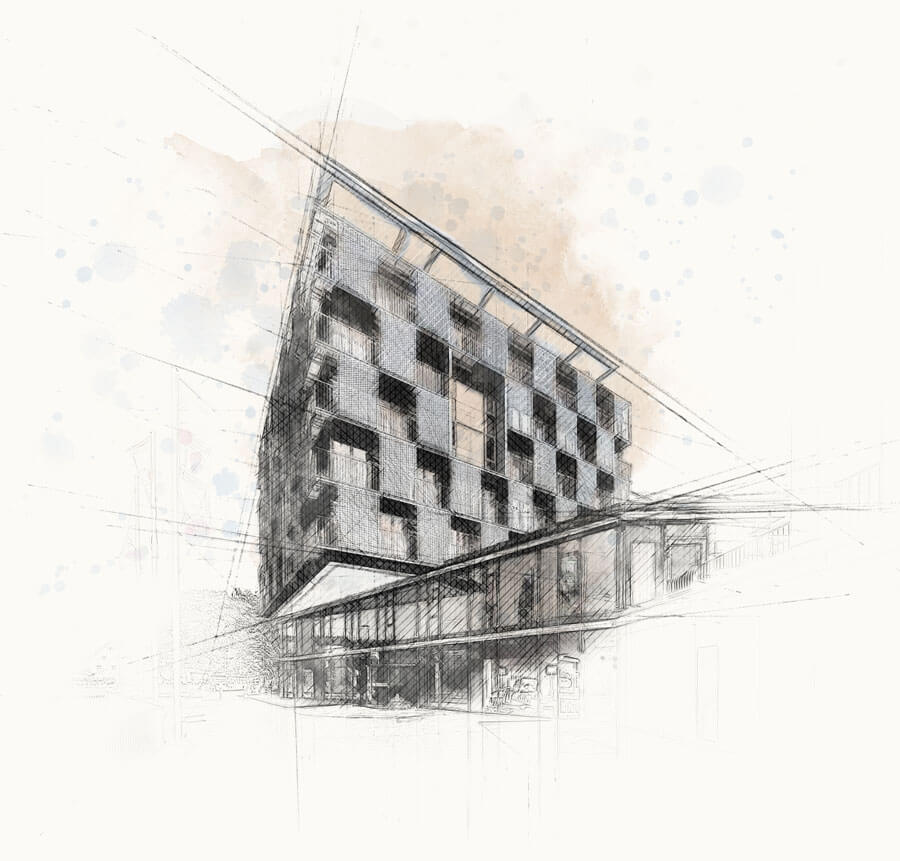 Multi-Development
Portfolio Takeovers
It may sound simple, but it is not easy. We appreciate a complex challenge, because the effort is worth it – for both sides.
We take over hotel groups and entire brand portfolios in order to lead them unerringly into the future. The greater the challenge, the greater the triumph!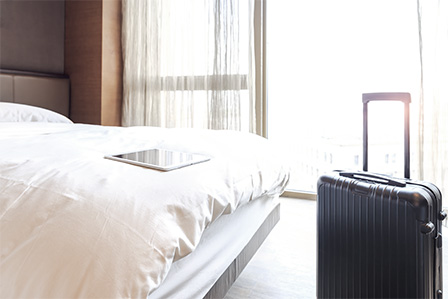 10 steps to a successful takeover
| | |
| --- | --- |
| 01 | Discreet contacting |
| | |
| 02 | Conclusion of a non-disclosure agreement |
| | |
| 03 | Negotiations and consulting from professionals such as lawyers and M&A specialists |
| | |
| 04 | Preparation of a letter of intent |
| | |
| 05 | Careful due diligence of companies |
| | |
| 06 | Determination of the transfer value and the transfer structure as well as signing of the contract |
| | |
| 07 | Contract closing |
| | |
| 08 | Post-merger integration in consideration of social responsibility towards |
| | employees and management |
| | |
| 09 | Implementation of highly efficient IT systems for optimal utilisation of synergies |
| | |
| 10 | Win-win situation |
| | |
| --- | --- |
| 01 | Discreet contacting |
| | |
| 02 | Conclusion of a non-disclosure agreement |
| | |
| 03 | Negotiations and consulting from professionals such as lawyers and M&A specialists |
| | |
| 04 | Preparation of a letter of intent |
| | |
| 05 | Careful due diligence of companies |
| | |
| 06 | Determination of the transfer value and the transfer structure as well as signing of the contract |
| | |
| 07 | Contract closing |
| | |
| 08 | Post-merger integration in consideration of social responsibility towards |
| | employees and management |
| | |
| 09 | Implementation of highly efficient IT systems for optimal utilisation of synergies |
| | |
| 10 | Win-win situation |